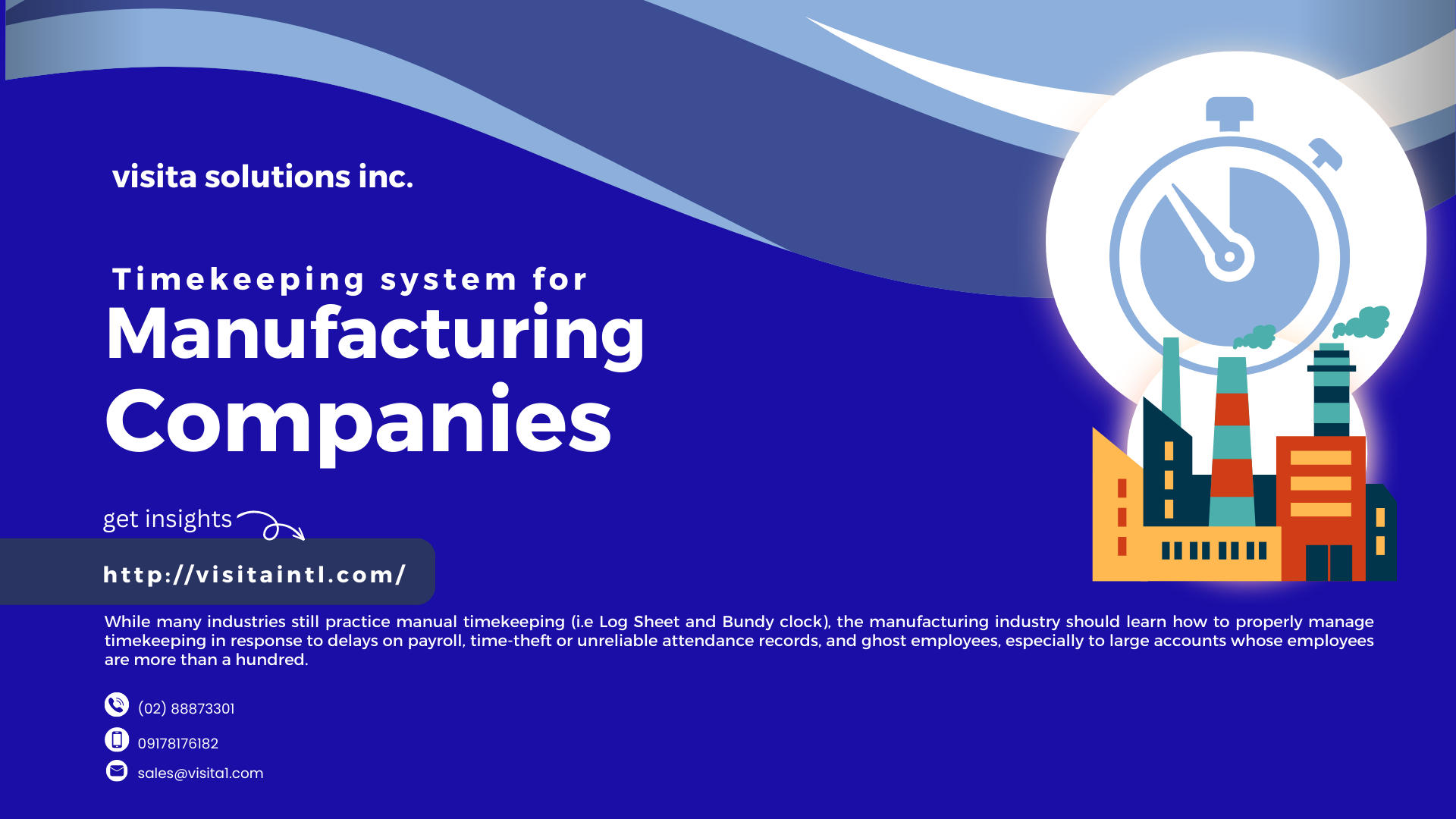 According to the DTI, the manufacturing industry covers the major market size in the Philippines, among other large firms and SMEs. This industry significantly contributed to the employment rate in the Philippines, and even in other countries. Employees coming from this industry work 24 hours with different shifts. Having different shifts scheduled for multiple employees is a bit overwhelming especially if the attendance recording is mixed with different factors such as overtime, tardiness, absences, leaves, leave without pay, and outside office activities, among others.
The confusion brought by a mix of attendance considerations can be ameliorated with proper timekeeping. While many industries still practice manual timekeeping (i.e Log Sheet and Bundy clock), the manufacturing industry should learn how to properly manage timekeeping in response to delays on payroll, time-theft or unreliable attendance records, and ghost employees, especially to large accounts whose employees are more than a hundred.
Timekeeping not only records the attendance accurately, but it also exercises accountability of the stakeholders on how to properly address correct payroll, giving rights to both the processors and employees to compute and receive the right amount that is due. Timekeeping segregates the many factors on the attendance considerations in terms of time in, break-in, break-out, and time out on a daily schedule which may include tardiness, undertime, overtime, night differential, working outside, working on a rest day, working on a holiday and the much more mixed of premium payments, which may also account absences, leaves, and leaves without pay, among others.
While timekeeping seems to be basic, the complexity behind this function is how the management responds to the standard labor regulation, while meeting the needs of stockholders to create value for the stakeholders. One of the many examples is the company's internal policy. How will the company record attendance of the workers in 24 hours of operations with different shifts and types of employees? Employees' categories are those working in regular, irregular, part-time, consultants, seasonal, and project-based among others. Having a standard timekeeping system that complies with labor regulations can prevent an employer from inaccuracy or worst, lawsuits.
There are many available timekeeping systems, but most features do not cover the majority of the needs of the employers due to their own internal policies and ruling. Visita Solutions is a registered organization in the Philippines that brings value to its clientele whose needs are customized systems, not only for timekeeping and payroll but also for accounting and inventory. The customized systems can follow internal policies and procedures. The purpose of the company is to provide automation on the complex manual processes of its clientele. The company demonstrates distinction through its robust customizations that cannot be addressed by other timekeeping software providers, and holds records of clientele from many notable large and well-known companies in the Philippines.
You may schedule your free demo through this link: http://visitaintl.com/free-demo/
You may also contact us at support@visitaintl.com, (02) 88873301, or 09178176182