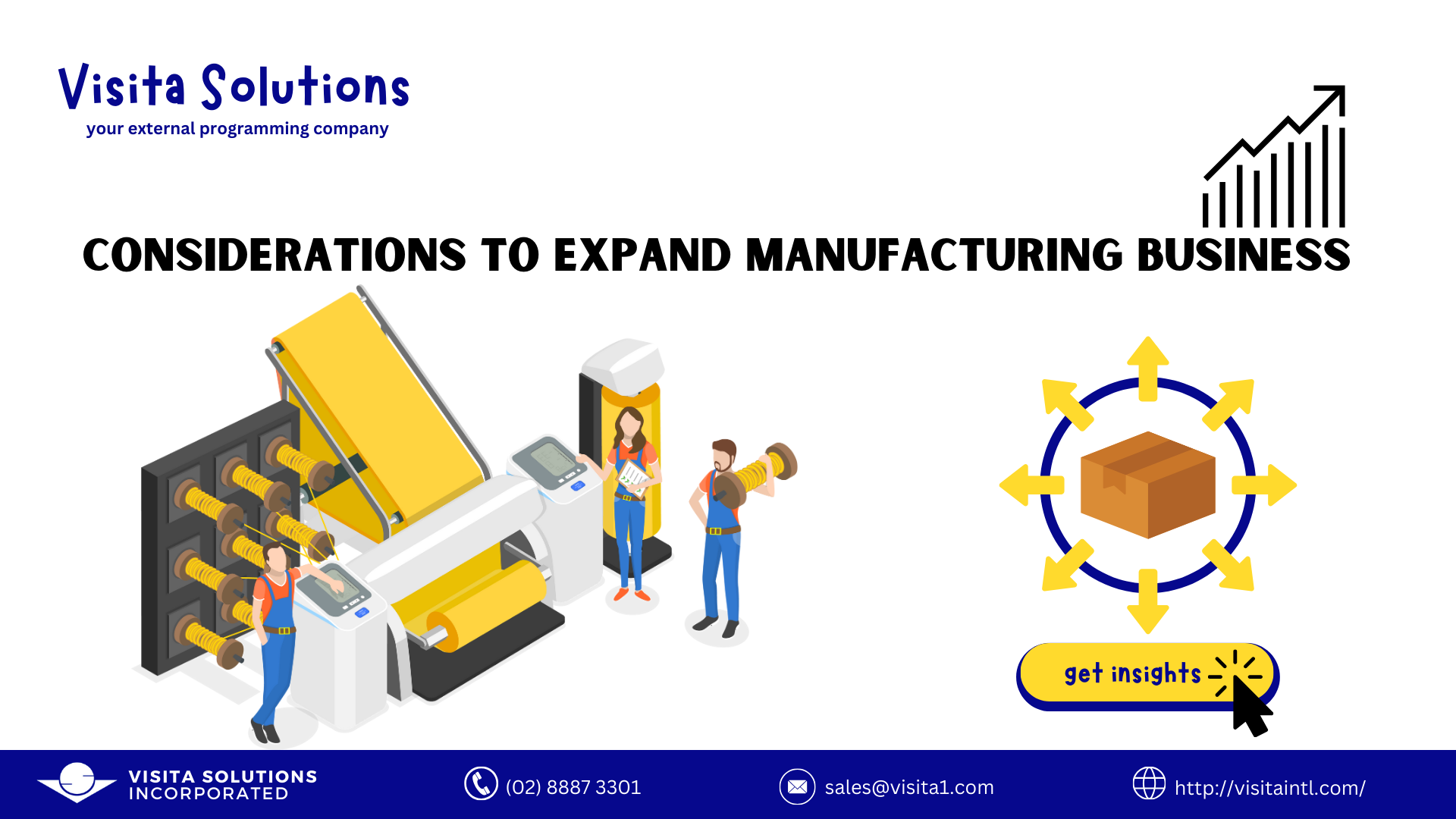 Expanding your manufacturing business may be exciting and at the same time challenging. By expanding your business you are anticipating an increase in your profit and growing of your customers. Additionally, with proper strategies, you can carefully assess what needs to be done. Visita Solutions has summarized some of the key factors that you need to consider in scaling up your manufacturing business.
Let's start:
Manufacturing Process
Scaling up your business involves new equipment and technology to increase your efficiency and capacity. If you cannot maximize your current assets, make sure not to overspend another capital expenditure and study carefully how to optimize your current operations. Your simple and small problem right now, if not addressed properly, may appear significant when you expand your manufacturing business.
Additional Staff and Training
Expanding means upgrading your current resources – one of these is your employees. If your current human capacity is already struggling with time constraints and energy, might as well increase your manpower as it contributes to your overall goal. Your manpower creates the movement to catalyze your vision. On the other hand, if you have enough manpower yet the result is below acceptable, consider retraining your people.
Logistics and Cost
Considering the above-mentioned, the expansion is associated with another investment in the company. There are a lot of additional expenses that you need to address other than equipment, technology, manpower, and training, but also properties, additional distribution channels, and logistics, among others. Ensure to exercise the benefits of accounts payable payment structure and create long-lasting relationships with the accountants of your supply chain!
Supply Chain
Expanding means multiplying your raw materials, and adding up your raw materials means securing a strong supply chain. Your relationship with your suppliers has to be strengthened and secured so that they can also provide you with enough raw materials to produce your final product – otherwise, you may also add up additional suppliers on your line.
Streamlining your back-office and administrative functions
While operations fuel up your profit, the admin keeps your operations intact. All the manpower and equipment without proper accounting can't progress. That's why paying attention to your other administrative functional departments is also vital, especially payroll. Your payroll structure motivates your manpower and maintains your key talents. Not only does it establish your company's performance, but it also saves you from lawsuits. Payroll and Accounting are two functions that are complicated especially when done manually. That is why investing in Enterprise Resource Planning (ERP) and software are great investments especially when you scale up. It saves you time, gives you real-time access, and automates redundancy that has to be eliminated. Visita Solutions is the leading company providing customizable software solutions to small to medium enterprises. We are your IT buddy and act as your external programmers. We have clients who started small growing into medium and now are large enterprises. Our flexibility transcends robust customizations and our dedication to helping our clients tailor fit their preferred automations is what makes us in demand.
Schedule your free demo through this link http://visitaintl.com/free-demo/ or contact us at sales@visita1.com and +(632) 887 3301