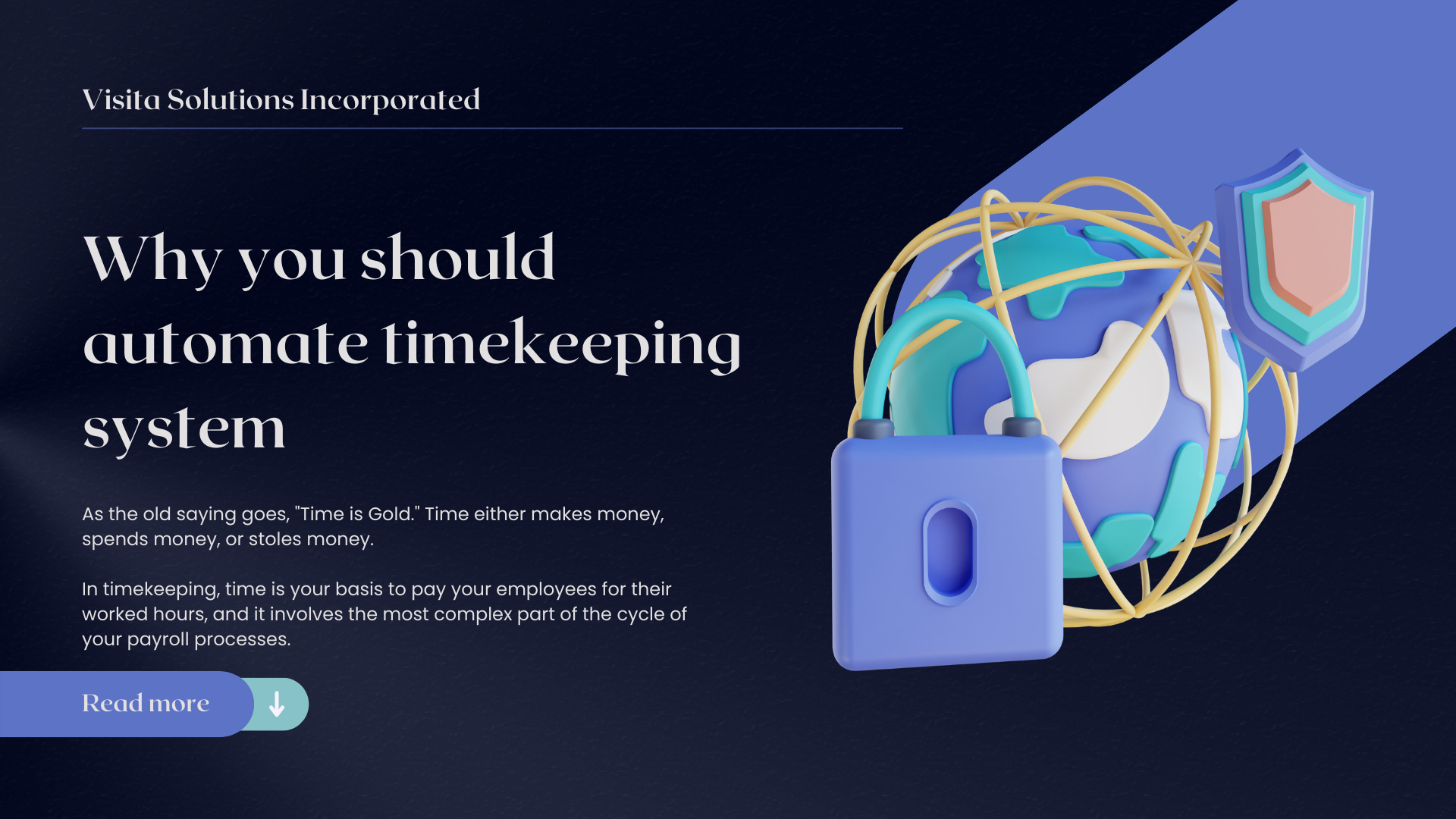 As the old saying goes, "Time is Gold." Time either makes money, spends money, or stoles money.
In timekeeping, time is your basis to pay your employees for their worked hours, and it involves the most complex part of the cycle of your payroll processes.
The most common manual type of timekeeping is by logsheet or bundy clock. While it is not common that such a procedure may be easily manipulated, the process is still popular and most used especially for start-up companies or those with less than 10 employees.
By practice, log sheets may be altered by countersigned attendance or may be manipulated by inserting one's name on a free-up space or at the bottom page. Bundy clocks as well can be exploited by tapping two different timecards. These things cannot be prevented that's why others are transitioning from manual to automated timekeeping systems.
Contrary to manual timekeeping, automated timekeeping is encrypted with biometric recognition, identification, and access control. Aside from the security and accuracy that it offers, it makes the timekeeping process easier and less time-consuming. This will eliminate unproductive periods for your employees and will optimize their other tasks that have a better payoff for your business.
However, getting an automated system makes it confusing in the beginning as a lot of players in the market are now offering the same products & services. This challenges the management's decision-making of whom to invest. The hint here is to listen to reviews, not just follow the most popular brand. Considering a long-term partnership is a good factor as well. Though there are a lot of players, only a few can deliver long-term service. A cheap service for a one-time transaction is no match to a reasonable price that can offer flexible service at all times.
Visita Solutions, known as the expert in customizations, offers a timekeeping system with biometric fingerprint & facial recognition device attendance and at the same time a selfie-online attendance with location tracking. The company prouds itself for being flexible and always delivering results to small to middle and large corporations. It can attend to organizational changes in its clientele and easily align the system with their changes in weeks or a few months. The company's well-known system is the VSiPayR or the Visita Biometric Payroll System which has HRIS, Timekeeping, and end-to-end payroll system processing from new hires to resigned employees, basic pay, government mandatory contributions & loans, up to the yearly 13th month, bonuses, and alphalist reporting, among many others.
For request of demo or quotation, message us or fill in this form: https://forms.gle/TTTyumePHhT556LR8
Contact us at sales@visita1.com | 88873301 | 09178176182
Visita Solutions Incorporated
Dynamic automation. We are the solution